Appreciating Part-Time Pastors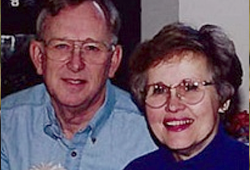 Jerry and Diane Onos both grew up in the same neighborhood and attended the Lakeside UMC Youth Group in Lynn, MA. They met and began the dance of their lives during a youth group Valentine's Day Dance. They continued this dance together throughout their life and ministry in Maine, settling in the coastal Portland area to raise their four children. Jerry enjoyed careers in real estate and banking while also acquiring some rental property.
During his ministry, Jerry became aware that part-time pastors, unfortunately, do not receive full pension benefits in retirement. In light of this dilemma, they decided to use funds from the sale of an investment property to create a deferred gift annuity that would support the Preacher's Aid Society. This charitable gift enabled them to greatly reduce their taxes in the year the property was sold. Delaying payments from the gift annuity also allows their gift to grow, and increases the annuity payments and the final gift. Living a very blessed life, Jerry and Diane acted as wise stewards and therefore will be a blessing to the Preacher's Aid Society and its vital ministries.
Jerry cared for Diane in her illness and was with her when she returned home to God in 2009. He continues to enjoy the coastal home they shared together and to tend the beautiful gardens she so loved. They have shared the wealth of their bountiful blessings to support those who serve! What a wonderful testimony!