Gifts that Benefit You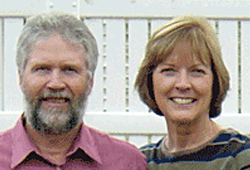 When Cathy and Richard MacGovern got married, they realized they needed to update their wills. They worked with a lawyer who understood that creating or revising a will is the right time to think about planning your charitable legacy. During the discussion about their estate, they discovered they could make a gift to benefit their favorite charities and also provide them some future income. A charitable gift annuity will offer them regular income during their retirement and is partially tax free for their expected lifetime. Their lawyer then asked Cathy and Richard which charities they might wish to honor. They quickly identified three ministries: Trinity United Methodist Church in Springfield, MA, the Preachers' Aid Society, and the United Methodist Foundation of New England. Cathy and Richard strongly believe in the continuing future of these three ministries that represent many of their favorite memories, spiritual journeys and professional careers.
With guidance from the United Methodist Foundation of New England, they created a gift annuity that ensures their charity choices receive support from their estate. Most importantly, Cathy and Richard celebrate today knowing what they have already accomplished. "We are glad knowing this gift is in place. Now we can explore our options for setting up future gifts."